I love trades! Email me if you're interested in setting something up.
Poetry zines
Transient Exuberance
This zine of confessional poetry uses raw emotion and vivid imagery to expose the intersection between love and pain, to celebrate my adopted hometown of Seattle, and to examine the creative process.
Denim Justice Is Forever
This is a zine of poetry I wrote between roughly the ages of 10 and 13. It includes selections from my Surrealist phase, inspired by a trip to the Salvador Dali Museum in Florida with my father when I was 11.
She Is Exactly Tomatoes
I've been using Duolingo to re-learn the German I took in high school. One of the site's methods of teaching is showing you a group of tiles in your native language, which you're supposed to combine to translate a sentence, but I quickly realized I could instead re-combine them to make a sort of surreal poetry. This zine is a collection of these one-line poems.
Photography zines
Take Heed
This is a zine of photos I've taken of warning/instruction signs various places.
Wash Your Guilt Away
The first in a series of zines of photos I've taken of graffiti.
Oh Moon I Love You!
The second zine of graffiti photos.
Other zines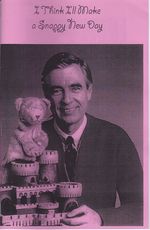 I Think I'll Make a Snappy New Day
This fanzine all about Mr. Rogers is my best-selling zine of all time! It includes everything from how much I have personally been inspired by him to quotes by him to a friend's true story of meeting Mr. McFeeley.